Consider a Career as a....
POLICE OFFICER
Join Los Angeles Unified School District's Police Department.  
LASPD works to ensure a safe learning environment at all of our school campuses.
WHO WE ARE
The Los Angeles School Police Department (LASPD) is the largest independent school police department in the United States, with over 410 sworn police officers, 100 non-sworn school safety officers, and a team of civilian staff members dedicated to serving the Los Angeles Unified School District.
WHAT WE DO
Our Officers maintain law and order at District facilities, including prevention and control of incidents of violence directed against District facilities, personnel, or students; investigate crimes; and apprehend and interrogate those suspected of committing or attempting to commit crimes against the District.  Additionally, Officers work closely with local law enforcement agencies in the prevention, control, and investigation of illegal activities against District facilities, personnel, or students.
WHERE WE WORK
Officers are typically assigned to a patrol or to a campus, although Officers may have a specialized assignment serving as part of our Bike Team, Canine Unit, Critical Response Team, or other critical unit.
Unique to the LASPD team, is the variety of assignments and services it delivers to its customers.
THE BIKE TEAM
The LASPD's Bike Team is an effective and pro-active community policing tool and crime suppression detail. The team participates in various anti-crime reduction missions that support the safety and security of our schools and safe passage zones.  Members of the team have completed a comprehensive and rigorous Peace Officers Standards Training certified Bicycle course, where they learned various riding skills such as traversing stairs, maneuvering through obstacles, following fleeing suspects, crowd control and tactical dismount.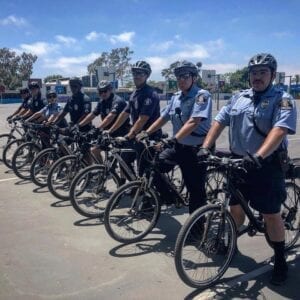 THE CANINE UNIT
Our Canine Unit closely supports school administrators in providing a safe and secure learning environment free from drugs and criminal activity by assisting in the detection and location of narcotics and suspects.  The unit of police officers and their canine partners have been rigorously trained and generally hone their skills with other canine professionals.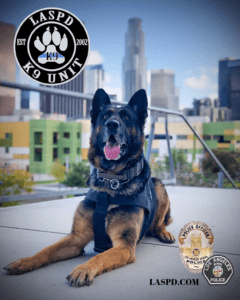 THE CRITICAL RESPONSE TEAM
The focus of the Critical Response Team is service-based by supporting, assisting, and training LASPD personnel in their role as first responders to critical incidents, which affect the safety of the students and staff of the Los Angeles Unified School District.  The CRT provides LASPD personnel with advanced training and tactics in areas such as Immediate Action Rapid Deployment (IARD) for active shooters, Multi-Assault Counter-Terrorism Action Capabilities (MACTAC), and Mobile Field Force (MFF)/crowd control. The CRT also works with the LASPD K-9 Unit in high risk searches and assists the LASPD Detective Unit in serving search warrants.  The dedicated members of the CRT have an extensive background in teaching and training personnel and they are committed to supporting and developing the men and women of the LASPD who are the first responders during a crisis to protect the students and staff of the LAUSD.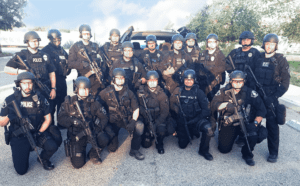 THE COMMUNITY RELATIONS UNIT
The Community Relations Unit is a highly visible proactive unit, representing the Department and the Chief of Police to establish, build, and sustain relationships throughout the diverse communities we serve.  The team is a direct report to the Chief of Police, with a focus on community engagement, transparency, and partnerships with department stakeholders.  In doing so, we collectively improve the quality of safety for all students, staff, administrators, parents and the school community.
HONOR GUARD
Members of the Honor Guard serve as an ancillary assignment in addition to their regular duties. Honor Guard assignments include supporting fallen officers in the "Line of Duty" deaths; providing final memorial services and honors to LASPD employees and their immediate families; presenting colors (e.g., United States, California, and LASPD flags) for significant events; and representing the LASPD at the local, state, and federal level.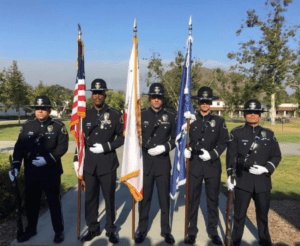 THE MENTAL HEALTH EVALUATION TEAM
The purpose of the Mental Health Evaluation Team is to provide compassionate field intervention and appropriate placement in situations involving students, teachers, administrators, and other District staff dealing with or suffering from a mental health crisis.  The Evaluation Team partners with the Student Mental Health Services team to offer compassionate care.  They deploy knowledgeable staff who are skilled at recognizing persons dealing with or suffering from a mental health crisis, and who are able to apply de-escalation techniques to help ease some of the most difficult, complex and high risk situations.
THE TRAINING UNIT
The LASPD Training Unit is tasked with administering a training program that meets and exceeds the standards of the Peace Officer Standards and Training (POST) as well as the continued professional training and development of school police personnel.  It is the department's overall goal and objective to ensure that our personnel possess the knowledge and skillset necessary to provide a professional level of service to our schools, students, staff, administrators, and the community.  LASPD strives to achieve these goals through continued education, career development, and best practices that provide our sworn and civilian personnel the skills and technical support to provide quality service.
HOW TO APPLY TO BECOME A POLICE OFFICER
APPLY FOR JOB AS POLICE OFFICER

Apply at www.lausdjobs.org

TAKE MULTIPLE CHOICE TEST

Candidates will be invited via email.  A passing score on the PELLETB may substitute for this test.

TAKE PHYSICAL AGILITY TEST

Test include push-ups; sit-ups; sprint; and run. 

INTERVIEW

Interview with a panel of Sworn Members of LASPD.

BACKGROUND INVESTIGATION

A full background investigation will be conducted; a polygraph test will also be administered.

MEDICAL & PSYCHOLOGICAL EVALUATION

INTERVIEW WITH CHIEF OF POLICE
Minimum Requirements
Be 21 years of age or older at the time of hire

Be a U.S Citizen or be eligible to become a U.S. Citizen

Possess a High School Diploma or equivalent

Possess a valid California Driver's License

Have no Felony Convictions

A willingness to work a flexible schedule, including any shift and day of the week, holidays, and weekends.